Sarasota's
Best Commercial Metal Roofing Contractors
Caring for your business or for your commercial establishment should be in your top priorities. Without a good quality exterior for your business or your commercial property, it's going to be easy for outside and external resources to penetrate and pose as a threat to your business operations.
Your activities and your operations might even be compromised. This is why you need to invest in its external aspects – especially with your roofing structure.
For all the Commercial Metal Roofing needs you to have, you can bank and count on us here at Metro Metal Roofing Company of Sarasota, Sarasota's number one option when it comes to Metal Roofing.
Protecting Your Business Through Metal Roofing
Metal Roofing is something that can actually be an investment; you can look at it that way. Although it's considered as the most expensive option for roofing, it's going to last longer than what you imagine. Commercial Metal Roofing Services are frequently sensitive nowadays, this is why we here at Metro Metal Roofing Company of Sarasota like to keep all of our services as reasonable and as affordable as possible.
Through Metal Roofing Systems, you can efficiently and effectively protect your business, as well as your operations from many different external threats that could spring out. Whatever business you have, may it be a restaurant, a storage facility, a car or an auto repair shop, convenience and retail stores, car wash shops, and so on – a Metal Roofing System would absolutely be the best option for you.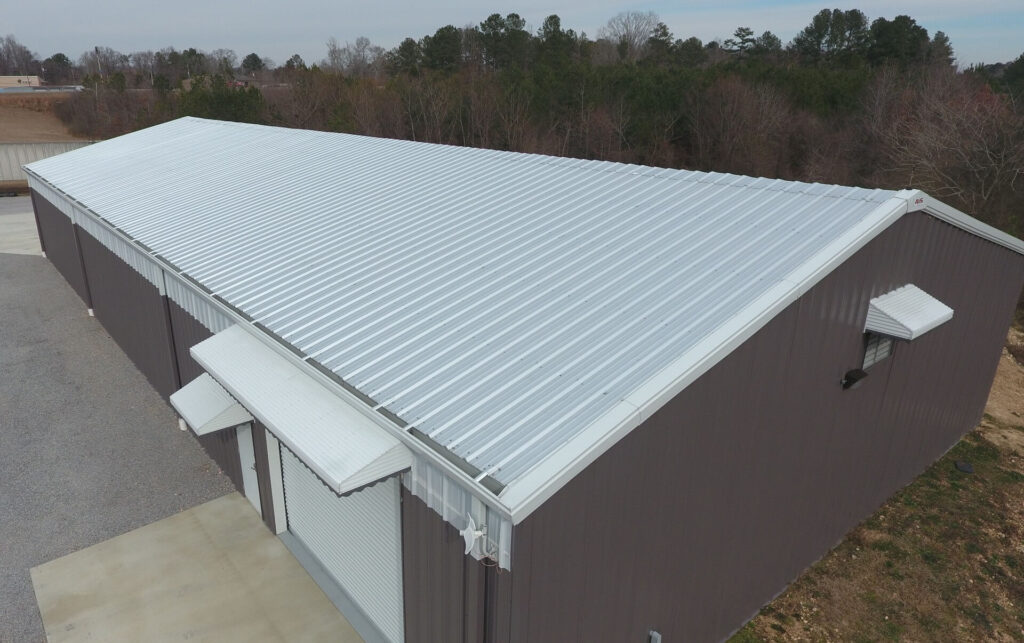 Benefits of a Commercial Metal Roofing System
As a business or a property owner, you'd have an idea of what and how investments go and run, correct? That being said, it would be easy for you to identify and to understand how this investment can go a long way for your business.
Here are some of the benefits of choosing a Metal Roofing System for your business or for your commercial establishment.
Contrary to popular opinion, Metal Roofs are actually a lot better when it comes to cooling and insulation. Many people tend to think that metal roofs absorb more heat than any other type of material, but in reality, it's actually cooler. Metal or Steel helps bounce the heat that touches the metal, making it hard for it to penetrate and to be absorbed by the membrane, down to the ceiling.
So, no matter how densely populated your office or your commercial establishment is, you'll never have to worry about cooling it; your metal roofs can help take the heat off away!
A lot of times, people think about the initial cost they'd have to spend and shell out for Metal Roofing Systems. It's true that it's expensive and that it's the costliest out of all the many options. What they forget is the fact that it's the most durable to the extent that they wouldn't have to worry about it, about 60 years on average. With this, it's easy to say that it is the cheapest form of roofing system.
No need to maintain it every now and then like how you would do if you have asphalt, clay, and rubber slate ceilings! Furthermore, it's not going to require you to check up on it – you can think about your business more!
Being the most durable and the strongest type of material for your roofing system, you can be sure that it's not going to invite a lot of stray and wild animals, should your property's location be anywhere near forests, jungles, and so on. No raccoons, squirrels, or any other type of rodent can penetrate the properties of the metal. It is, in fact, close to being indestructible.
In addition, heavy rain, snow, – and even hail would find it hard to break and damage metal roofs. The coatings of most Metal Roofing Systems are superb and will definitely be something you would never regret. Whatever commercial building or establishment you have, if you are in need of a Metal Roofing Contractor here in Sarasota, you can definitely trust us here at Metro Metal Roofing Company of Sarasota.
The Commercial Metal Roofing Services we offer are all topnotch; and we can guarantee you that you would love to work with us again. For all your Commercial Metal Roofing needs, we can help you with a ton of services, which may include: Corrugated Metal Roofing, Standing Seam Metal Roofs, Tapered Panels Metal Roofs, Metal Shingles, Re-Roofing or Retrofitting, and many more! Visit our website to view the full list of the services we can help you with!
Get Your Free Quote!
As a part of our services, we are proud to help you initially by providing you with a free estimate or quotation of the services that you are in dire need of. In case you're not sure what type of service you need, and how much budget you would need for it, Metro Metal Roofing Company of Sarasota can be of aid and assistance.
In addition to that, you can also take advantage of the Free Roof Inspection Service that we offer! We can help tailor-fit the particular needs you have for your Metal Roofing System. You'll never feel the need to work with another company if you experience working with us!
We care for your business the same way we do and that is why we will never let you down! Metro Metal Roofing Company of Sarasota has been and will always be the best Metal Roofing Contractor in the entire city of Sarasota.
Want to experience an excellent quality Metal Roofing Service? Talk to us by giving us a call or by shooting us an email! You'll absolutely love the experience of working with the best Metal Roofing Contractor in the industry!
Metro Metal Roofing Company of Sarasota can be your go-to company for all the Metal Roofing needs you have! You're just one call away from experiencing world-class quality services wherever you may be in Sarasota.
Time to Replace Your Roof? We Can Help
Considering roofing replacement? When it comes to roofing projects, many homeowners rely on professionals to get the job done. At Metro Metal Roofing Company of Sarasota, our specialists stick to all the industry standards when installing metal roofing on both residential and commercial properties. Therefore, you can be sure of getting a sturdy roof on top of your house. As a result, you can get the best services from our company in the following fields;
What Locations do we Serve?
Metro Metal Roofing Company of Sarasota is a name you can trust and rely on. Our metal roofing services were limited in Sarasota, FL when we started. But with time our company has expanded and is now serving over ten locations within Florida.
It shows how reliable we are. Here are some places within Florida, where you can access our world-class metal roofing services: –