Sarasota's
Metal Roofing Installation, Replacement, & Repairs
In the roofing industry, Metal Roofs are considered to be the most durable and the most reliable form of roofing system. Because of its metallic properties, it automatically is resistant to the naturally occurring elements such as water, ice, snow, wind, and fire.
That's just one of the reasons why you should consider switching or shifting to Metal Roofing now. We'll be discussing a few more later.
So, if you are, in any way, interested in getting the best and the highest quality of service, you can absolutely bank and count on us here at Metro Metal Roofing Company of Sarasota, the most sought after Metal Roofing Contractor in the whole city of Sarasota.
Who Are We?
In Sarasota, Metro Metal Roofing Company of Sarasota is the name that property owners call on whenever they feel the need to be serviced when it comes to their roofing system. We've been in service for years and our clients can't get enough of the services that we offer.
Having focused on the Metal Roofing Systems Industry, we are adept and skilled in offering a whole wide range of services that you could tailor-fit to your specific needs. Some of the services that you can entrust to us include, but are not limited to:
Metal Roofing System Installations, Repairs, and Replacements
Standing Seam Metal Roof Services
Tapered Panel Metal Roofs
Metal Tile Roofs
Metal Shingles
Stone-Coated Steel Roofs
And Many More!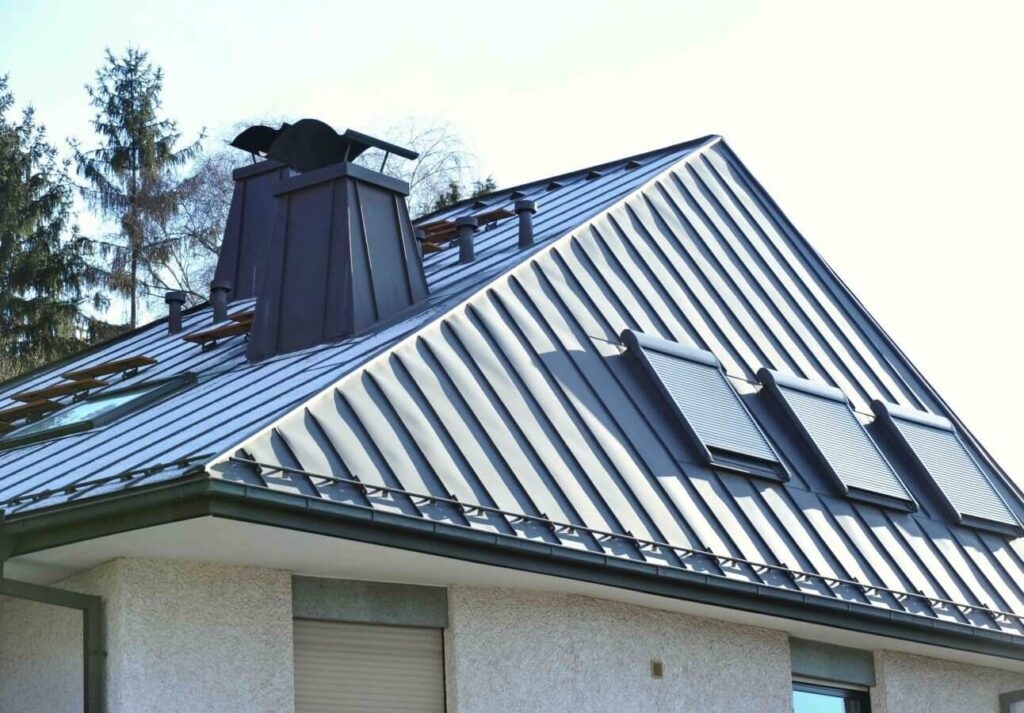 Obvious Reasons Why You Should Go Metal
Think that metal roofs are too much for the budget you've set? Well, try to think it more thoroughly. Think about your usual concrete tile roofs, your rubber slates, and your asphalt shingles being worn out after 25 years. When metal averages a life span of about 60 years.
Apart from that, what are the actual reasons why you should choose to go with Metal Roofing Systems?
Don't believe that Metal Roofs actually save you a lot more money than when you go with rubber slates and asphalt cedar roofs? Do the calculation yourself. Imagine installing a rubber slate roof today. 20 to 25 years from now, that roof will be good as gone. Plus, you've paid for maintenance for that roof and you did it every 5 years – so you did maintain it 5 times.
Now, imagine installing a Metal Roofing System. Metal Roofs last about the same time as the building – sometimes even longer. For a figure, let's agree on 50 years. Whether or not you still live in the same house, compared to rubber slates, you've maintained your metal roof at least twice at the time your rubber slate is already gone. Never be blinded by what you're paying for upfront because if you look at the bigger picture, it's a lot more cost-effective.
Metal is a material that is known to be durable and long-lasting. No matter what weather hits it, it'll still remain intact and standing. Think about asphalt and rubber slates. When it rains, some of the water might remain there, where moss and other types of fungi can grow. When that happens, you'd have to pay for it to be cleaned.
With a Metal Roof, you don't have to worry about that! It'll slide off easily and it will dry faster than you contact a response team to clean it for you. Add the fact that its' water, fire, wind, and abrasion-resistant – you get the value for what you will be paying for.
Several soft materials such as tiles, clay tiles, asphalts, concrete, and the like have been reported to be easy targets for animals, rodents, for that matter. If you live in a wooded location and you know that there are animals creeping around, would you want them under your roof?
One way you can keep them out is by installing a Metal Roofing System. Metal Roofs are designed to be unbreakable to the extent that not even fast winds can break it. So, if you want to keep animals and other unwanted creatures off of your property, be sure that you utilize the best form of protection – a Metal Roof.
Keep It Cool Inside
Now, contrary to what most people believed in, Metal Roofs absorb heat faster and more often than any other type of roofing there is – WRONG. In fact, Metal Roofing Systems have been known to be the freshest and the coolest when it comes to different types of roofing.
Because of the characteristic of metal to bounce heat off of the surface of the roof, no heat would be contained and absorbed by it, keeping the inside and the interior of your home cool, properly ventilated, and cold. Those are just some of the reasons why you should consider switching to Metal Roofs immediately. There are more but that would already depend on the situation and the location of where your property is located.
Who Do You Trust for Metal Roofing Systems?
Here in Sarasota, no other company can be trusted but us here at Metro Metal Roofing Company of Sarasota. We've been the go-to Metal Roofing Contractor that residents and commercial establishment owners have trusted for years.
Not once did we fail to meet their expectations. In fact, with the expertise and the skill our Metal Roofing Professionals and Experts have, you'll never feel the need to work with another company ever again.
Contact Us!
Talk to us and tell us what you need with your Metal Roofing. Work with the best and the most trusted Metal Roofing Contractor in the whole of Sarasota! Work with Metro Metal Roofing Company of Sarasota!
In case you want to make sure how much budget you need, you can utilize the Instant Free Quote Form that we have. Moreover, we also offer a Free Roof Inspection to our clients for them to know what specific service they need for their roofs.
Metro Metal Roofing Company of Sarasota will truly be the only company you will need to work with. Dial us or send us an email today and experience premium quality Metal Roofing Services!
Time to Replace Your Roof? We Can Help
Considering roofing replacement? When it comes to roofing projects, many homeowners rely on professionals to get the job done. At Metro Metal Roofing Company of Sarasota, our specialists stick to all the industry standards when installing metal roofing on both residential and commercial properties. Therefore, you can be sure of getting a sturdy roof on top of your house. As a result, you can get the best services from our company in the following fields;
What Locations do we Serve?
Metro Metal Roofing Company of Sarasota is a name you can trust and rely on. Our metal roofing services were limited in Sarasota, FL when we started. But with time our company has expanded and is now serving over ten locations within Florida.
It shows how reliable we are. Here are some places within Florida, where you can access our world-class metal roofing services: –