Sarasota's
Corrugated Metal Roof Contractors & Installers
Looking into the different options and types of Metal Roofing can be a bit daunting. It can even prompt you to look at other options as well. If you are finding it challenging and difficult to choose, why not pick and choose the best and the most proven one? – Corrugated Metal Roofs?
What is a Corrugated Metal Roof?
Corrugated Metal Roof is one of the traditional and classical Metal Roofing Systems there is. It's the type of roof that has a curvy, wavy pattern to its edge. Yes, it's the uneven type of roofing system that doesn't have a solid straight edge. This type of roofing system has been praised by numerous people and property owners because of its proven durability and strength. But why exactly would you want to choose Corrugated Metal Roofs?
Whatever Metal Roofing System you choose and select, you can bank and count on us here at Metro Metal Roofing Company of Sarasota to help you with your concerns and your dilemma. We've been the most trusted and the most reliable Metal Roofing Contractor in the industry, having serviced thousands of residential and commercial properties combined.
Corrugated Metal Roof Structure
The most common thing you will notice with it is the fact that it has uneven edges. The wavy pattern that it has allows the metal to have more durability and malleability, making it strong and flexible at the same time.
In addition to that, they're mostly made up of galvanized steel, which is perfect in keeping abrasion, wear, and corrosion away from your roofs. Galvanizing, in case you're not aware, is the process of coating steel, and is beneficial in many different ways such as keeping the material scratch-proof, preventing further wear and damage, and so on.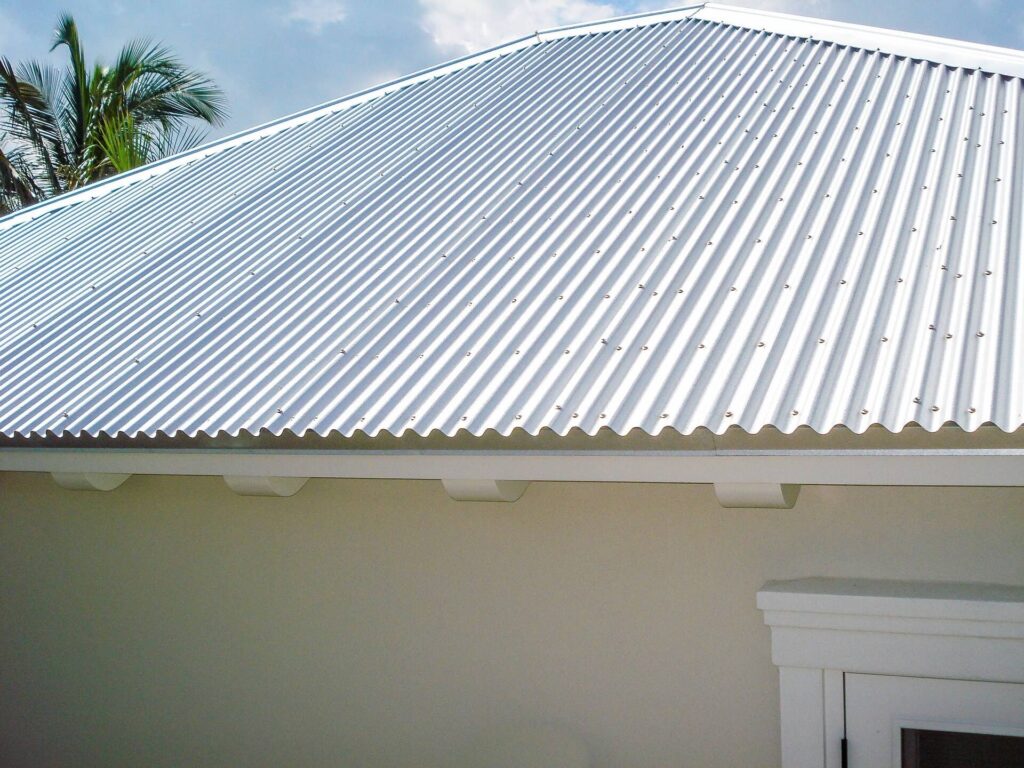 Benefits of Corrugated Metal Roofs
So apart from the fact that it's made from metal, what other benefits and advantages can it give you and your property?
Choose Metro Metal Roofing Company of Sarasota for the Best Service!
Have you decided on installing a Corrugated Metal Roof System on your residential or your commercial property but you're not sure who you can work with?
Dial us here at Metro Metal Roofing Company of Sarasota and experience world-class quality services from the stage of planning, the blueprinting stage, up to the building stage without paying a fortune for it.
There might be a lot of other companies out there but if you're looking to work with the best, there's no need for you to seek further – Metro Metal Roofing Company of Sarasota is here and is always ready to assist.
What are Our Other Services?
We are proud of our mastery and our overall skill in handling and in managing Corrugated Metal Roofing. However, our skills and knowledge aren't just limited to that. As a matter of fact, other services and masteries in different Metal Roofing Systems that we have included, but are not limited to:
Metal Roof Shingles

Metal Tile Roofs

Regular Metal Roofs

Re-Roofing Metal Roofs or Retrofitting

Stone-Coated Steel Roofing

Tapered Panels Metal Roofing

Standing Seam Metal Roofs

And Many More!
Visit our website to learn more about the services we can offer!
Get a Free Quote Today!
Want to know how much budget in the estimate you would need to have for this service? Talk to us by dialing or by sending us an email here at Metro Metal Roofing Company of Sarasota.
We can give you the assurance that you'll experience no problems communicating with us. Should you choose the faster process, but the less accurate one, you can take on the Free Quotation or Estimate form that we have on our website.
Metro Metal Roofing Company of Sarasota will never let you out on your own. Whatever concern or query you have with Metal Roofing, you can be sure of our services.
Time to Replace Your Roof? We Can Help
Considering roofing replacement? When it comes to roofing projects, many homeowners rely on professionals to get the job done. At Metro Metal Roofing Company of Sarasota, our specialists stick to all the industry standards when installing metal roofing on both residential and commercial properties. Therefore, you can be sure of getting a sturdy roof on top of your house. As a result, you can get the best services from our company in the following fields;
What Locations do we Serve?
Metro Metal Roofing Company of Sarasota is a name you can trust and rely on. Our metal roofing services were limited in Sarasota, FL when we started. But with time our company has expanded and is now serving over ten locations within Florida.
It shows how reliable we are. Here are some places within Florida, where you can access our world-class metal roofing services: –