Sarasota's
Metal Tile Roof - Best Roofing Contractors
Probably the simplest, yet the most effective kind of Metal Roofing is the Metal Tile Roof. Akin to how rubber slate tiles and asphalt tiles are installed, Metal Tile Roofing is just all the same! The only difference is that its metal!
Should you be, in any way, interested to have a Metal Tile Roof Service and you're within the city of Sarasota, you can bank on us here at Metro Metal Roofing Company of Sarasota. We have the best resources, the most dependable Metal Roofing Specialists, and reinforced products to help you with your needs.
Metal Tile Roofs vs. Regular Clay Roofs
A lot of people actually have the misconception that metal roofs absorb more heat and at a faster rate compared to other types of materials for roofing. When in reality, Metal Roofs are the best when it comes to insulation as it has certain properties that disintegrate heat.
That's one of the main advantages that Metal Tile Roofs have with your usual clay roofs. You'll never have the dilemma of heat and humidity because the metal will reflect and deflect the rays of sun back into the air, not allowing it to sip through the membrane and be absorbed by your interior.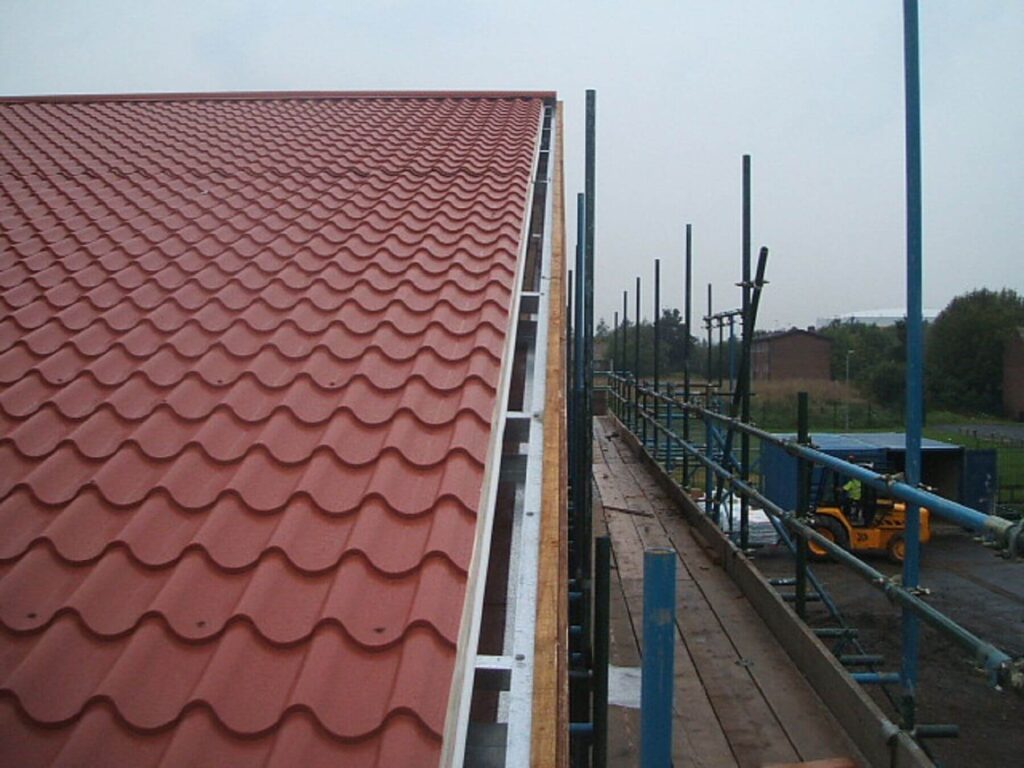 Why Metal Tiles and Not Other Metal Roofing Structures?
There are several reasons and benefits that Metal Tile Roofs can give you that other roofing structures might find difficult or challenging. Some of which include:
Easier Installation
People love going with asphalt, rubber, or clay tiles because of the fact that it's convenient and easy to install. Unlike corrugated metal roofs, standing seams, and stone-coated steel roofs that are big in size, Metal Tile Roofs are simple to manage and can easily be installed in any type of house.
Lightweight
In case you're not aware, Metal Roofing is a lot lighter than Asphalt Cedar or Rubber Slate roofing. A square foot of Metal Roof weighs about 50 to 150 pounds per square; whereas Asphalt is 3 times heavier at 650 pounds per square. With its weight, you'll not have a hard time maneuvering it when it's time for installation, or if you'll have a repair service.
Savings – In Many Different Ways
Metal Tile Roofs offer a lot of different savings when it comes to the cost. Let us try to enumerate them one by one so you get a better understanding of how cost-effective they are:
Advantages of Working With Us
Being the most reliable and the most trusted Metal Roofing Contractor in the whole of Sarasota, we can give you the guarantee that the service you need can easily be done and accomplished. Through the help and the dedication of our Metal Roofing Experts and Professionals, you can expect high-quality results!
Aftercare Services
Most companies have aftercare services, but would only last for days. With us, you can contact us if in case you experience problems with your Roofing System, no matter when you call us – we'll move to assist you. Of course, there are some limitations. However, the point is, we're always ready to give and to help you with all the concerns and the queries that you might need.
Free Roof Inspection
Not sure what type of service you need for your roof? Don't worry, Metro Metal Roofing Company of Sarasota is offering a one-time Free Roof Inspection Service for you to know exactly what needs to be done. Things that would be covered in the inspection are:
The current condition of your roofing system

Costs and expenses that would be tied to the service

The procedure to be undertaken to restore or to have the roof's perfect condition
You'll never regret your decision of choosing us here at Metro Metal Roofing Company of Sarasota for your Metal Tile Roofing Services. Talk to us by dialing our hotline or by sending us an email and we will be more than happy to help and to assist you. Work with the best Metal Roofing Contractor and never feel the need to work with another contractor ever again!
Experience the best quality of Metal Roofing without spending more than what you can afford! Metro Metal Roofing Company of Sarasota will help you with all the Metal Roofing Services that you need!
Time to Replace Your Roof? We Can Help
Considering roofing replacement? When it comes to roofing projects, many homeowners rely on professionals to get the job done. At Metro Metal Roofing Company of Sarasota, our specialists stick to all the industry standards when installing metal roofing on both residential and commercial properties. Therefore, you can be sure of getting a sturdy roof on top of your house. As a result, you can get the best services from our company in the following fields;
What Locations do we Serve?
Metro Metal Roofing Company of Sarasota is a name you can trust and rely on. Our metal roofing services were limited in Sarasota, FL when we started. But with time our company has expanded and is now serving over ten locations within Florida.
It shows how reliable we are. Here are some places within Florida, where you can access our world-class metal roofing services: –