Best
Re-roofing (Retrofitting) Metal Roofs in Sarasota
For your home, what type of roofing do you have installed? Are you still with the usual and the regular rubber slate or asphalt roofing? Or do you have the most practical and the cheapest of all – clay tiles?
If you answered yes to any of the questions above, then you might want to consider switching to a Metal Roofing System. Metal Roofing Systems have been a hit in the industry, especially when the residential market accepted it to be a part of the Residential Roofing System.
Here in Sarasota, our company, Metro Metal Roofing Company of Sarasota, has been deemed and looked at as the most trusted, the most reliable, and the most skilled when it came to Metal Roofing Systems.
But before we dive straight about what benefits we can give you as a Metal Roofing Contractor, let us first try to understand a bit more about Metal Roofing.
Do you know exactly when the perfect timing is to have a Metal Roof Repair? How about a Metal Roof Replacement? There aren't a lot of people who know this, while there are some who have a clue.
However, between those two extremes is what's called a Re-Roofing or a Retrofitting Service. This might be your first time hearing about it; but if you've been reading some stuff about Metal Roofing, you could have heard it once or twice.
What is the Idea Behind Re-Roofing?
To put it simply, Re-Roofing or Retrofitting is the action of putting or installing a new roofing system over the existing roof that you have. So, is the previous roofing system removed? No! A Metal Roof Replacement would be that if the current or existing roof is removed.
In a Re-Roofing Metal Roof Service, otherwise known as Retrofitting, the current roofing system is kept. It can sound a little bit too confusing, especially if you're new to the Metal Roofing Idea.
But, it's actually just simple and manageable!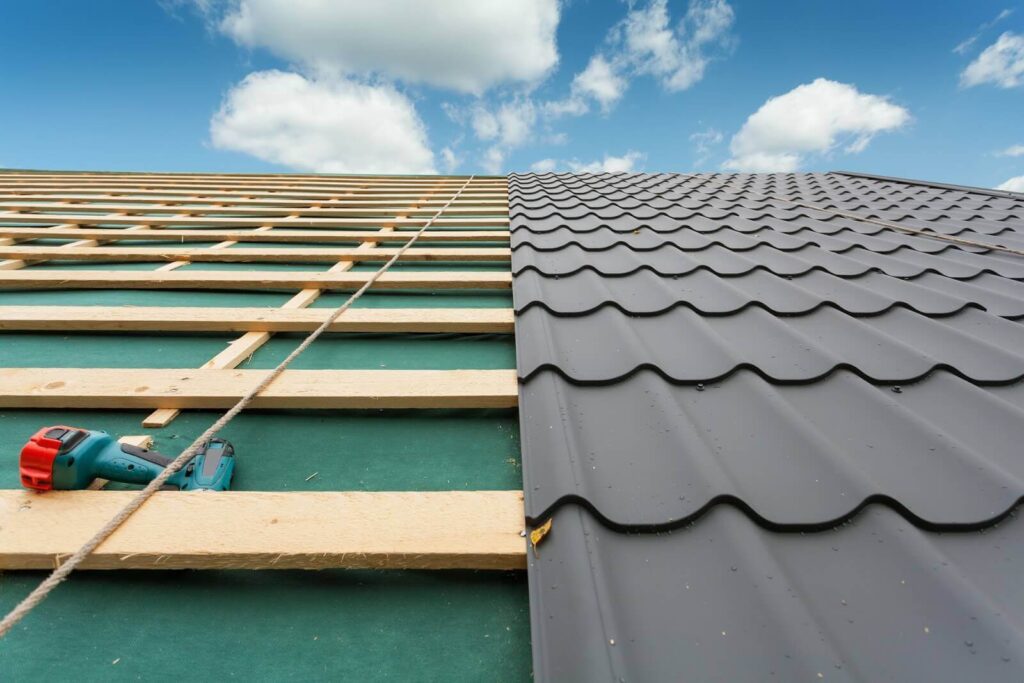 What's the Difference Between Re-Roofing (Retrofitting) and Metal Roof Replacement?
Simple – the initial activity. In Re-Roofing or Retrofitting, the materials currently installed on a roofing system wouldn't be removed. It's simply a process that would cover up an old roof using a new roof.
A Metal Roof Replacement, on the other hand, is a process that would disintegrate and remove materials and elements of a current roof.
It's a total replacement of the roofing system, which may not be actually what you need. So, before you decide which particular Metal Roofing Service you need, you need to be wary and to take note of several factors and points.
Knowing When You Should Go For a Retrofitting or a Replacement
Not all people know what and how this works – in fact, if you're not that adept and knowledgeable when it comes to roofing, you wouldn't notice!
It'll really be difficult and challenging to know. As a matter of fact, the best option that you can go with is to contact a Metal Roofing Contractor to help you with what you need. Here in Sarasota, there's no other company or contractor trusted but us here at Metro Metal Roofing Company of Sarasota.
For years, we have been seen and considered by many property owners as their go-to option for any Metal Roofing Service. Whether they needed a Metal Roof Installation, a Metal Roof Repair, a Metal Roof Replacement, or a Retrofitting or Re-Roofing Service, we were able to accommodate them!
We service and help out all types and kinds of properties – from regular residential and domestic establishments and properties to commercial and industrial zones. Some of the most common and the most sought after services that our clients ask for include:
Corrugated Metal Roofing
Standing Seam Metal Roof Services
Tapered Panel Metal Roofs
Metal Tiled Roofs
And Many More!
Do You Need a Re-Roofing or a Replacement?
Some of the most common signs that you would need a Metal Roof Replacement instead of just a Retrofitting Service would include:
If there are leaks that are occurring
Wall and ceiling stains appearing in the house
Severe damage to the membrane of the roof
Large damages to the roof cover (membrane could have gone brittle)
Rotting or sagging membranes and shingles
Those are the things that you need to notice, which can trigger a Metal Roof Replacement. As you may have noticed, those are severe cases. In Retrofitting, however, you can do so if the damage dealt isn't that serious. Some of the things that you can take as a sign would include:
When you see that the damages are slight and aren't that serious, you can go for a Re-Roofing or a Retrofitting Service. However, you should only consider this if the damage is like more than 40% of the roof. Small damages might only just require a repair, not a Re-Roofing. This is because Re-Roofing is something you can just only do one time. It's not like a repair, which can consistently be a part of your plan.
Are the covers of your roof not in good shape any longer? Do you look to change up and alter the covers but you want to maintain its membrane because it's still intact? If this is what you're experiencing, then going for a Re-Roofing Service is the best thing to do!
It is a simple process and it wouldn't require the removal of the current roofing system you have. You would want to get it, instead of a replacement because the damages aren't that serious – or if the damages are just on that particular cover of the roof.
Is your roofing membrane still in good shape? Is it overall, just not that great-looking? If you just want a total makeover of the exteriors of your roof, then go for a re-roofing service.
Cheap, inexpensive, and affordable
Fast to complete and install
No need to remove or take off the current roofing system
Materials can be transported easily
Wherever you might be in the city of Sarasota, you can bank and count on us here at Metro Metal Roofing Company of Sarasota to help you. We have been the Roofing Contractor trusted by many property owners in and around Sarasota and we never failed to give our clients the quality Metal Roofing Services they need.
Contact Us Now!
Whatever your location may be in the city of Sarasota, you can absolutely bank and count on us here at Metro Metal Roofing Company of Sarasota to help you. Through the Free Roof Inspection and the Free Estimate that we can provide, you'll never have to worry about where you can get quality Metal Re-Roofing and Retrofitting Services ever again!
Work with the best – work with us here at Metro Metal Roofing Company of Sarasota and experience world-class quality services at the best and the cheapest rates you can get!
Time to Replace Your Roof? We Can Help
Considering roofing replacement? When it comes to roofing projects, many homeowners rely on professionals to get the job done. At Metro Metal Roofing Company of Sarasota, our specialists stick to all the industry standards when installing metal roofing on both residential and commercial properties. Therefore, you can be sure of getting a sturdy roof on top of your house. As a result, you can get the best services from our company in the following fields;
What Locations do we Serve?
Metro Metal Roofing Company of Sarasota is a name you can trust and rely on. Our metal roofing services were limited in Sarasota, FL when we started. But with time our company has expanded and is now serving over ten locations within Florida.
It shows how reliable we are. Here are some places within Florida, where you can access our world-class metal roofing services: –