Sarasota's
Premier Metal Roofing Systems
What type of roofing system do you have in your home? If you own a business or a commercial property, what type of roofing system did you go with? In the country, more and more people are shifting and are switching to Metal Roofing Systems simply because it's durable and it's longer lasting than the usual and the traditional clay and asphalt roofs.
But apart from that reason, why should you choose Metal Roofing Systems? There are a lot of other reasons why – and that's what we will be discussing later on! Before we go deep into it, do you know what Metal Roofing Systems are?
What are Metal Roofing Systems?
A Metal Roofing System is a type of roofing system that is comprised of mainly metal or steel. It's as easy as it sounds – no complications.
However, there are cases and instances where it's mixed with other materials that complement it. For instance, there's what we call Stone-Coated Steel Roofs – it's a roof in which its base is steel but it's coated by a layer of stone or abrasives.
Nevertheless, a Metal Roofing System is what we all think it is – a roofing system that is made up of metals. A lot of people think that if you choose it, you can get a lot of benefits from it – but benefits in what sense?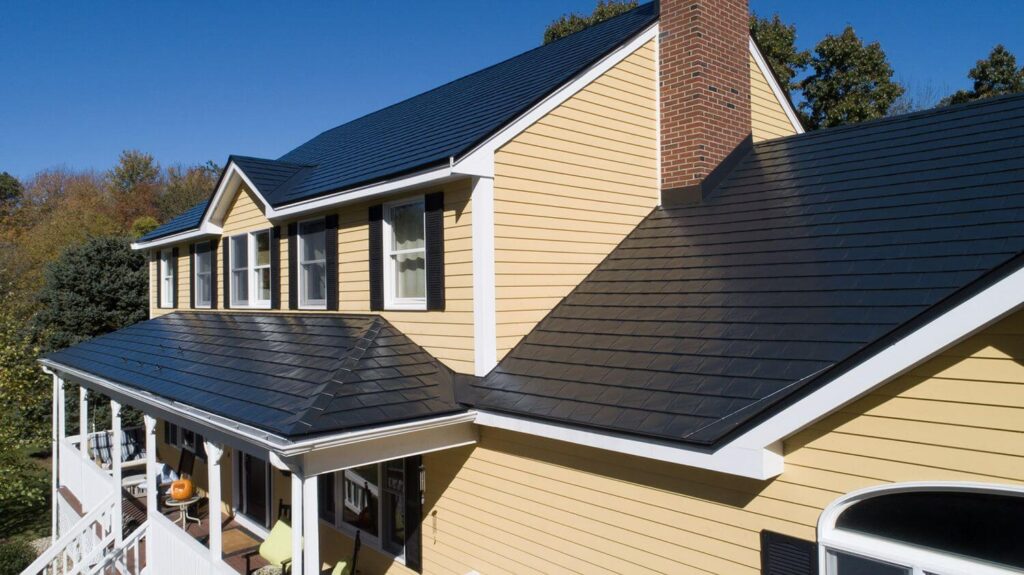 How Can You Benefit From Metal Roofing Systems?
Choosing Metal Roofing Systems can give you a ton of benefits especially when it comes to your experience. Some of the main highlights that it can help you with include:
It's made out of metal, it's definitely the strongest, the hardest, and the toughest type of roofing system that you can get. It's able to keep animals off of it; it's impenetrable by water and dust – and it lasts for an average of 50 years!
One of the main properties of metal is the fact that it can help deflect and block of heat to be absorbed by your roofing membrane. When it does, it can creep and crawl down to your ceiling, which radiates the heat and humidity.
If you are for design and aesthetics, then you should definitely go with Metal Roofing. Many people aren't aware of this, but metal roofs actually have more and better options when it comes to style and color. Regular clay and asphalt cedar roofs have around 20 different hues and shades of colors you can choose from, whereas metal roofs have over 40!
Those are just some of the most common advantages you can get with Metal Roofing Systems – there are a lot more!
Are They Really Effective?
Metal Roofing Systems are effective in many different ways. As a matter of fact, the only drawback it has is its initial price!
It can be a bit expensive for most people because of the large money it requires in the beginning. After that, you're going to be cruising on it smoothly and seamlessly.
Wait, isn't it that Metal Roofing Systems are the most expensive types of roofing systems? How can it help me save money? It can in a lot of different ways.
We mentioned that it's the most expensive type of roofing when you are to consider and to think about the initial costs you're going to have. But, in the long run, it's actually the best and the most efficient.
One thing that you'll absolutely love about it is the fact that it can help you with your electricity bills. Because of the fact that it is the least absorbent of heat, you wouldn't have to worry about your home being kept fresh and cool.
It has the best insulation, so you don't have to utilize air-conditioning units, heaters, and even a lot of fans. In a commercial building setting where it's packed with people, Metal Roofing Systems can be so effective as it can help manage CO2 that's released by people.
It's lightweight and it's not going to be difficult to move or to maneuver. So, that means less cost for you in transporting and installing it. There'll be no need for heavy-duty transport like a 10-wheeler truck because it's light and most Metal Roofing Systems are small in size.
The Best and the Most Trusted Metal Roofing Systems Contractor in Sarasota
In case you're now considering it, where should you go? Who should you contact for it? There are tons of Metal Roofing Contractors in and around the city of Sarasota. However, if you're looking to work with the best, the most reliable, and the most trusted in the entire city, don't pass on the chance of working with us here at Metro Metal Roofing Company of Sarasota.
For years, we have been the go-to company of most residential and commercial property owners within and around the city. Many people trust us because of the professionalism and the success of the services that we offer. But besides that, they work with us because they know that all our Metal Roofing Specialists, Professionals, and Experts are highly skilled, educated, and are adept in the field.
Free Roof Inspection
In case you're not sure what you need to do with your Roofing System, you can get the Free Roof Inspection feature that we have here at Metro Metal Roofing Company of Sarasota.  We're going to check everything that needs to be checked – from the regular cover of the roof, deep within its membrane, the eaves of the roof, its composition – everything!
Metro Metal Roofing Company of Sarasota will and can be the all-in-one Metal Roofing Contractor that you can work with wherever you might be in Sarasota. You can contact us or visit our website to know more about the different services we offer for Metal Roofing Systems!
Work with the best and experience world-class quality services at the best rates you can find in the market!
Time to Replace Your Roof? We Can Help
Considering roofing replacement? When it comes to roofing projects, many homeowners rely on professionals to get the job done. At Metro Metal Roofing Company of Sarasota, our specialists stick to all the industry standards when installing metal roofing on both residential and commercial properties. Therefore, you can be sure of getting a sturdy roof on top of your house. As a result, you can get the best services from our company in the following fields;
What Locations do we Serve?
Metro Metal Roofing Company of Sarasota is a name you can trust and rely on. Our metal roofing services were limited in Sarasota, FL when we started. But with time our company has expanded and is now serving over ten locations within Florida.
It shows how reliable we are. Here are some places within Florida, where you can access our world-class metal roofing services: –