Sarasota's
Standing Seam Metal Roof Installation Team
Beginning with a new home, a new commercial property, or a new exterior can be tough, especially if you're not sure what type of roofing system you want. But, more often than not, most Metal Roofing Contractors would recommend the usual type of Metal Roofing for your residential property, and the stronger ones for your commercial properties.
So you can't decide and something caught your eye and your attention – it's like a vertical panel with seams that seem like they're standing because they are in an outright vertical position – they're called and dubbed as the Standing Seam Metal Roof.
Structure of Standing Seams
From its term alone, you already know that it's a type of roof with a standing panel (instead of ridges) wherein they're interlocked at the edges, forming a tight seal. There are different types and variations of Standing Seam Metal Roofs, however, the styles that you can choose from are:
Nail-Hemmed Standing Seam

Mechanically Seamed Panels

Exposed Fastener Style

Snap-Locked Standing Seam
These are the four (4) common styles that property owners can choose from. Depending on the need they have would be the effectiveness of each, and where they are located.
Who Can You Trust?
Here with us at Metro Metal Roofing Company of Sarasota, we can effectively guide you in your journey of assessing whether or not a Standing Seam Metal Roof is the perfect choice or option for you.
We have and we offer a wide spectrum of options and choices that you can choose from that would absolutely fit and meet the expectations you have with Metal Roofing Systems.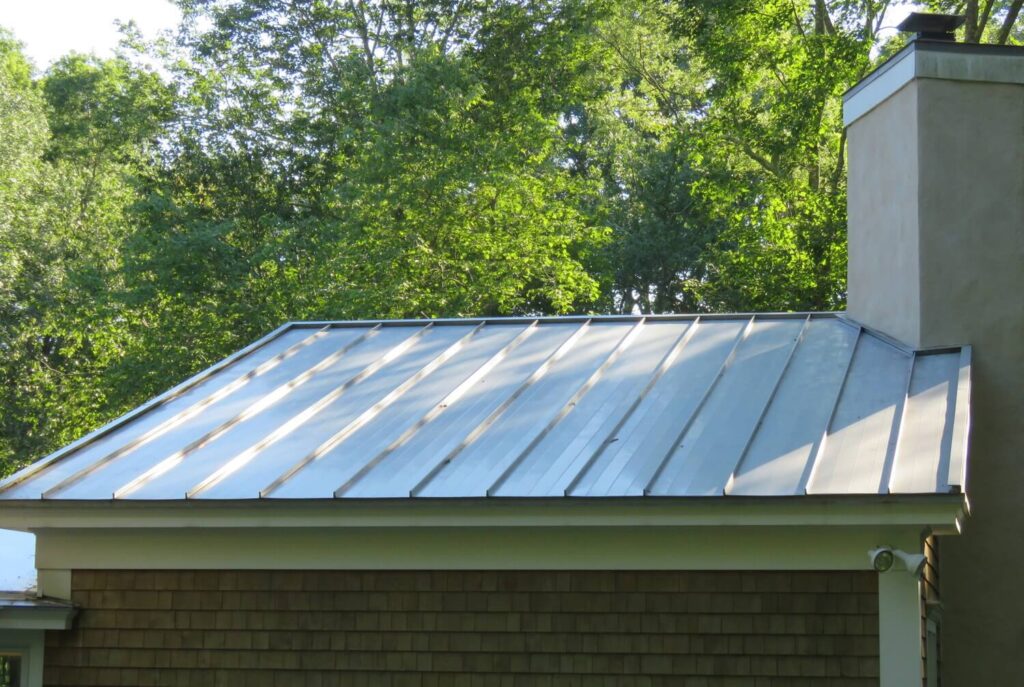 Go-To Metal Roofing Contractor in Sarasota
Many of our clients chose us again because of the many advantages that we were able to give them with the projects. As a matter of fact, we help and assist thousands of clients on a yearly basis, which can be any of the following services:
New Construction Installation
Metal Roof Replacement
Metal Roof Repair
Retrofitting or Re-Roofing Metal Roofs
The expertise and the overall skill that our Metal Roofing Contractors have will definitely astound you. Metro Metal Roofing Company of Sarasota has invested a lot in the skill, knowledge, and processes that are involved in Metal Roofing and that's one thing that brought us to the top of the industry's ladder.
Advantages of Standing Seam Metal Roofs
So among the family of Metal Roofing Systems, why should you consistently pick and choose Standing Seam Metal Roofs over the other types of Metal such as the traditional Corrugated Metal Roofs, the regular Ridge Roofs, and the like?
Make Your Decision With Us!
Have you decided which one to go with yet? Do you want a mechanically-seamed standing seam or a snap-lock panel to offer convenience and added support? Whichever your decision may be, you can always count and rely on us here at Metro Metal Roofing Company of Sarasota to help you.
If you're not sure what to choose, do know that we'll be able to help and assist you! Make a good decision and decide to work with us to achieve better, stronger, and more durable Metal Roofs without spending a fortune for it!
Dial us today and experience exemplary quality Metal Roofing Services without spending more than your allotted budget! Metro Metal Roofing Company of Sarasota is the key to a successful Metal Roofing Installation, Repair, or Replacement!
Time to Replace Your Roof? We Can Help
Considering roofing replacement? When it comes to roofing projects, many homeowners rely on professionals to get the job done. At Metro Metal Roofing Company of Sarasota, our specialists stick to all the industry standards when installing metal roofing on both residential and commercial properties. Therefore, you can be sure of getting a sturdy roof on top of your house. As a result, you can get the best services from our company in the following fields;
What Locations do we Serve?
Metro Metal Roofing Company of Sarasota is a name you can trust and rely on. Our metal roofing services were limited in Sarasota, FL when we started. But with time our company has expanded and is now serving over ten locations within Florida.
It shows how reliable we are. Here are some places within Florida, where you can access our world-class metal roofing services: –